MGB New Testament
$35.00
$65.00
saving
$30.00
| /
MGB New Testament
$35.00
$65.00
saving
$30.00
| /
2306
of
3836
Pledged /
0 days left
MGB Old Testament is coming soon after 3836 MGB NT sales.
Beautiful. Readable. Time-honored.
Rejuvenate your daily Bible reading with this uncluttered update of the landmark 1599 Geneva Bible.
The New Testament
in 13 volumes optimized for reading and rereading.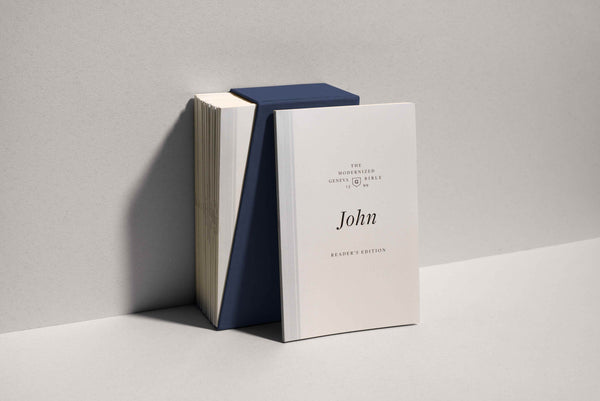 Reader's format

Single columns, creamy stock paper, and ample margins make the New Testament feel and read more like a book than textbook.

Solid slipcase

Beautiful, textured, and foil-stamped so the MGB is elegant and easy to store.

Thin volumes

The New Testament made into thirteen books which you can finish in a sitting or two.

Time-honored Scripture in modern text
Technical specifications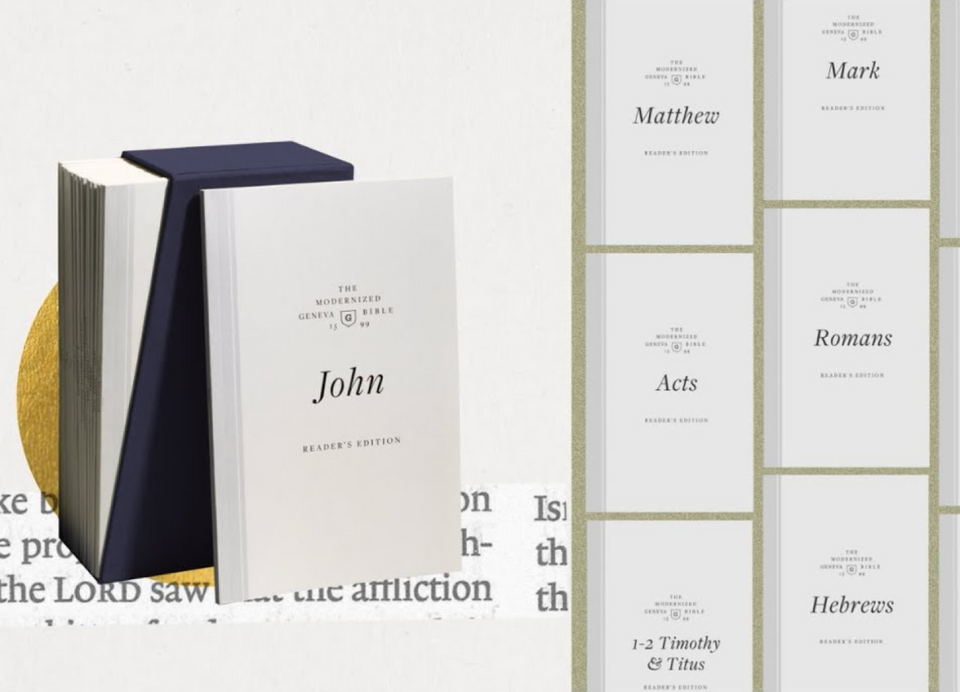 Read time

Reading plans

Unlike other readers' editions, the MGB retains chapter and verses to help you keep track of Bible reading plans or sermon references.

Font size

Reading is easy on the eyes with creamy text stock and Sabon Standard font sizes about 10pt Times New Roman, larger than standard Bible fonts today.

Portable

Volumes are lightweight, making it easy for you to read it on-the-go.
Great design/packaging and looking forward to the Old Testament release. Aho
I'm thoroughly enjoying this updated Geneva Bible. I can't wait to have the Old Testament as well. I have been referring to this translation as I write my sermons and been helped. Thank you.
Very attractive and great to read. Glad they advertised on Gab, and that I saw this nicely packaged bible was available!
Good reading
The free sample I received as part of a different order was a surprise and a delight to read. I immediately ordered the entire set. The reading plans included with the package have inspired me to read through the entire New Testament in an orderly fashion. It's also been fun to compare to my copy of the original Geneva Bible that I got from American Vision.
I'm hoping that eventually they will produce the Old Testament and perhaps start with Psalms & Proverbs.